Organizations have increasingly started adopting Scrum, Agile framework for their innovation needs and enhanced productivity. The success of an Agile project invariably depends on the Scrum team's performance which is steered by the Scrum master in the desired direction.
It is not a surprising fact that the salaries of Scrum professionals are on the rise, given the current unstable and bizarre situations that the world is exposed to. Having to finish projects on time and delivering quality products to customers, the Scrum Masters are the professionals whom companies turn to. Scrum Masters, with their exemplary skills of leadership, communication, facilitation, are no wonder the go-to solution for the IT team of any organization
A certified Scrum Master certification enables you to work across major companies like IBM, Tata Consultancy Services, CapGemini, Honeywell, BOSCH, Accenture, Deloitte and many more.
The job role could range anywhere from a Scrum master, delivery lead, project/program manager to an Automation engineer/Agile coach.
Based on the recent salary survey by Zip recruiter, the average annual salary for the Certified ScrumMaster is $116,659 a year.
This course teaches potential product owners how to reduce the cost of their products and systems, and in turn,reap profits for their organization. You'll also learn about the mechanics of scrum and how the product owner fits into Scrum methodology.
Course Duration : 4 weeks @ 5 hours/week
➤ Servant leadership
➤ Facilitation skills
➤ Coaching
➤ Resolving impediments
➤ Enabling high team performance
➤ Leading and facilitating change
➤ Lean and Kanban
➤ Scaling and descaling
➤ Visual management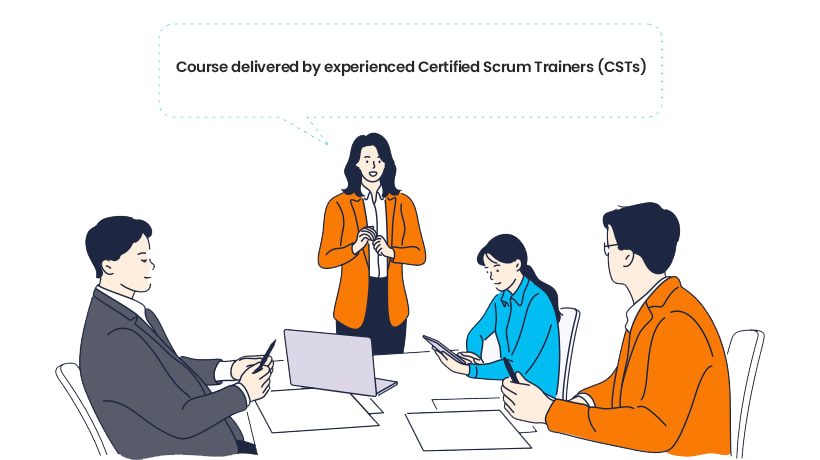 If you're a CSM ready to take the next step in your Agile journey, this is just the certification you need to distinguish yourself further. Anyone can attend the course, including:
➤ Experiential workshops
➤ Elite panel of Scrum Alliance CSTs
➤ Expert practitioners
➤ Scrum Masters
➤ Team Leads
➤ Development Managers
➤ largest Agile network
➤ Continual learning support
➤ Six-month exclusive post-training sessions
➤ Delivery Managers
➤ Project Managers
➤ Agile Coaches
Course Pre-requisites
An active Certified ScrumMaster® (CSM®) certification.
12 months of Scrum Master work experience in the past five years.