Change is inevitable.
Every business goes through many different phases of change. Every moment, every single decision taken from every level of management. From the micro to the macro-levels. It has the potential to make or break the organization.
Business transformation is a process that aims at making fundamental changes in the way an organization works. Be it in the improvement of processes, technology deployed in the organization, or the personnel. Fundamental changes made in these sectors drive profit and make the entire process more efficient.
Business transformation works on mammoth scales. In place of making incremental changes done to several processes, bold and swift changes are made, like adopting new business and operating models.
Transformation happens from top to bottom.
From the CEO's to the Board of Directors. The change is adopted and spread throughout the organization. Think of it like rebuilding yourself, piece by piece. Taking away the unnecessary elements (and when we say unnecessary, we mean redundant workflow and processes). Replacing them with new ones that the company plans to adopt. It is as much a change in the thought process that drives the company, as it is a change in the entire company's plan of action.
Most attempts at business transformation happen over the course of many years. With certain strategic pivots set in place that can reduce the timeframe for the transformation.
But what if we told you, we do more than reduce said timeframe? We transform your business to produce output at an exceedingly accelerating pace!
Some ways that we do this is by
➤ Finding avenues for change, and getting all stakeholders on the same page about the changes that need to be taken.
➤ Understanding the organization – What it is changing from, and what it needs to change into.
➤ Improving scalability, by finding out your functional requirements.
➤ Automating processes that take more manpower than they should.
➤ Avoiding over-optimization.
➤ Steering your business towards operational resilience.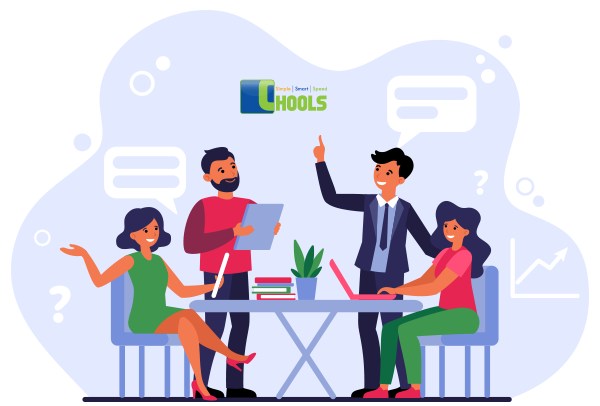 For every team, we have a game plan.
And every business has its own set of goals to achieve. Whether it be increasing scalability, or making way for a slew of more efficient processes. We at Chools make this easily attainable for you. Whichever be the set of goals you have set for your business.
With our consulting services, we help you rebuild your organization, from top to bottom. Making the time consuming process of upgrading to future industry standards easier.
We help you
➤ Increase revenue.
➤ Cut costs.
➤ Improve satisfaction of customers.
➤ Adjust and flourish under market pressure.
➤ Automate repetitive processes in favor of processes that hold higher value.
➤ Leverage big data and technology to help you identify opportunities, and achieve success.
➤ Transform the inbuilt corporate culture in your organization.
➤ Define the mission statement of your new business model. And ideate a strategy for the same.
➤ Inculcate decision making capability depending on the roles, and rules defined.
We teach you how to go about this entire process in a fast paced manner. We deliver Time bound and Achievable results. Results that will not only transform your business, but also keep you ahead of the rest in the game.
Go big as you Grow Big! Welcome to Chools.