Our Advisory Panel Members
                Laxminarayanan G is the Sr. Vice President and Global Delivery Head of Polestar Solutions. He is an experienced management consultant with extensive experience in providing AI, analytics and Digital Marketing consulting to many Fortune500 companies over the last 16 years.  He has played leadership roles in various firms including Deloitte and PwC.  He is a management graduate from IIM Lucknow and a post graduate diploma in AI-ML. He is also a visiting faculty in IIM Kolkata, IIM Lucknow and IIM Amritsar engaged in teaching modern day tools and techniques for students. He has been associated with several top b schools in mentoring and teaching the students in AI and marketing domain. He is an avid speaker at different industry forums and a regular guide to several MSMEs through CII and NASSCOM.
               Prof S. Chandrasekhar holds a Bachelor's degree in Electrical Engineering, Master's degree in Computer Science from IIT – Kanpur and Doctorate in Quantitative & Information Systems from University of Georgia, USA. Founder Director of a Startup Company incubated at IIT Kanpur funded by SIDBI, developing cutting edge solutions in the area of Big Data Analytics and Risk Management.
Experience of more than 5 decades in Corporate, Research and Academics.  Senior Prof. in Business Analytics at IFIM Business School Bangalore since Nov 2013. Previous Stints include – Reputed organizations like Tata Institute of Fundamental Research, ISRO, NRSA Hyderabad, Indian Institute of Management – Lucknow, Fore School of Management in the capacity of Chairman – Admissions, Chairman – MDP & Member Secretary to IIM Board, Visiting Professor at Manchester Business School, U.K. Published around 60+ research papers in the international and national journals & has been invited as the KEY-NOTE speaker & chaired many panel discussions in AIML & Computer Vision in several national and international conferences. Consultant to various industries in the area of Business Intelligence, Predictive/Descriptive Analytics & Modelling, Risk management, Computer Vision & Text Mining. He has guided plenty of students for Masters and Doctoral degrees in the area of Text Mining & (NLP) Natural Language Processing, Demand forecasting using Deep Learning, & Computer Vision.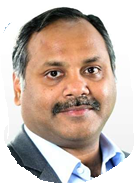 Srikanth is a senior leader in Human Resources with over 25 years of industry experience with global organizations in Technology and Consulting, with progressive leadership experience in managing (and, scaling) transformative work. Result oriented, business savvy and systems thinker, with many an accolade and appreciation from peers, leaders and management – Srikanth brings to the table, a blend of ideation and execution excellence, building high-performance culture and teams, coaching and mentoring leaders a steep (and, adaptive) learning curve.
Acknowledged for being an early adopter of digital technologies to create a hyper-personalized Employee Experience, Srikanth has co-authored and published articles, papers and book chapters on AI in HR, Employee Experience using digital adoption based on his work. Based on his work, Srikanth and his team have been granted three patents by the USPTO 
               Shyam holds an Executive MBA degree from IIM Bangalore, MS from Syracuse University – NY, and is a BE from Bangalore University. He comes with a rich experience of more than 2 decades in the Executive Management areas in marketing, sales and operations. Currently, he is the Chief Marketing Officer at ITC Infotech. As the ITC Infotech CMO, Shyam has been instrumental in marketing transformation. His recent world class showcases include being featured for their IWFA framework by Forbes, COVID response best practices by NASSCOM, Business Standard, Forrester, world class digital reputation scores, 500% social engagement uptick and a world class ABM program in place. He has been recognized in Fast 100 by Oracle and Paul Writer in India's top 100 progressive marketers & recognized as one of India's top 100 digital marketers by Adobe & Paul Writer. He has played a key role in building a world class centre with HP – One of HP's R&D hubs (scaled to 1000 people.
His other areas of expertise include AI, Analytics, Cyber Security, Product Innovation & building large business units and growth engines in automotive and telecom sectors. Prior to ITC, he has been associated with brands like Tata Elxsi, Marlabs.Inc & L&T Technology Services.
                            Prof. Sankarshan Basu is currently the Dean in Amrut Mody School of Management (AMSOM), Ahmedabad University.  He has a profound experience of more than 20 years in the teaching profession & in the corporate field. His expertise include areas like Finance and Accounting, Treasury Operations, Statistics, Political Science, Financial Markets, Investments, Fixed Income Securities, Derivatives, Risk Management & Financial Econometrics.  His earlier stints prior to Amrut were in reputed institutions & corporate houses like IIM Banaglore, Heriot Watt University, Edinburgh, UK, ICICI Ltd.
To his credit, he has conducted specific in-company executive training programs at corporates like State Bank of India, Reuters, American Express, Bank of America Merrill Lynch, Genpact, Essar Group, Federal Bank, ICICI Bank, FIMMDA Kotak Bank and the ETA Ascon Group (Dubai). Adding on to the above customized courses for numerous corporates, he has worked with the Government of India, viz. the Indian Revenue Service (IRS) on various training programs for the Commissioners.  He played the role of Program Director for the Mahatma Gandhi National Fellowship launched by the Ministry of Skill Development and Entrepreneurship, Government of India in collaboration with IIM Bangalore targeted towards a better understanding of the skill ecosystem in the country as well as aid in the district development plan by using a bottom up approach as opposed to a centralized top down approach.
He holds a Bachelor's degree in Science with honours in Statistics from the Presidency College, Calcutta and is an M.Sc. in Statistics from the Indian Institute of Technology Kanpur.