Advanced Product Quality Plan
With proper application, APQP establishes a firm relationship between customer and supplier. That relationship is derived out of strong confidence that exists concerning the quality of the product. Wrong application of APQP leads to disastrous consequences in the entire design process. The ultimate consequence inevitably will be a sabotaged relationship between the customer and the supplier.
Most well-known companies perceive APQP as a worthwhile substitute for the Product Development Process. The APQP process demands a rigorous and detailed approach to product development. Presence of a Cross-Functional Team (CFT) is the prime requirement. Organizations with supply chains performing critical tasks may positively benefit from implementing strategic approaches of APQP. With limited resources, accomplishing the task appears overwhelming, that's when Chools comes into the picture.
Chools APQP consulting is all about deep involvement. We first emphasize on understanding your overall product and your required process development. Completion of the initial analysis is followed by the development of time and cost-effective process.
The two major aspects of APQP are significantly enhanced by our counsel. Preventing failure on the latest products of the organization. Followed by effective implementation of APQP deployment for the supply chain.
Chools Consulting Services builds APQP process foundation by defining and addressing the following aspects: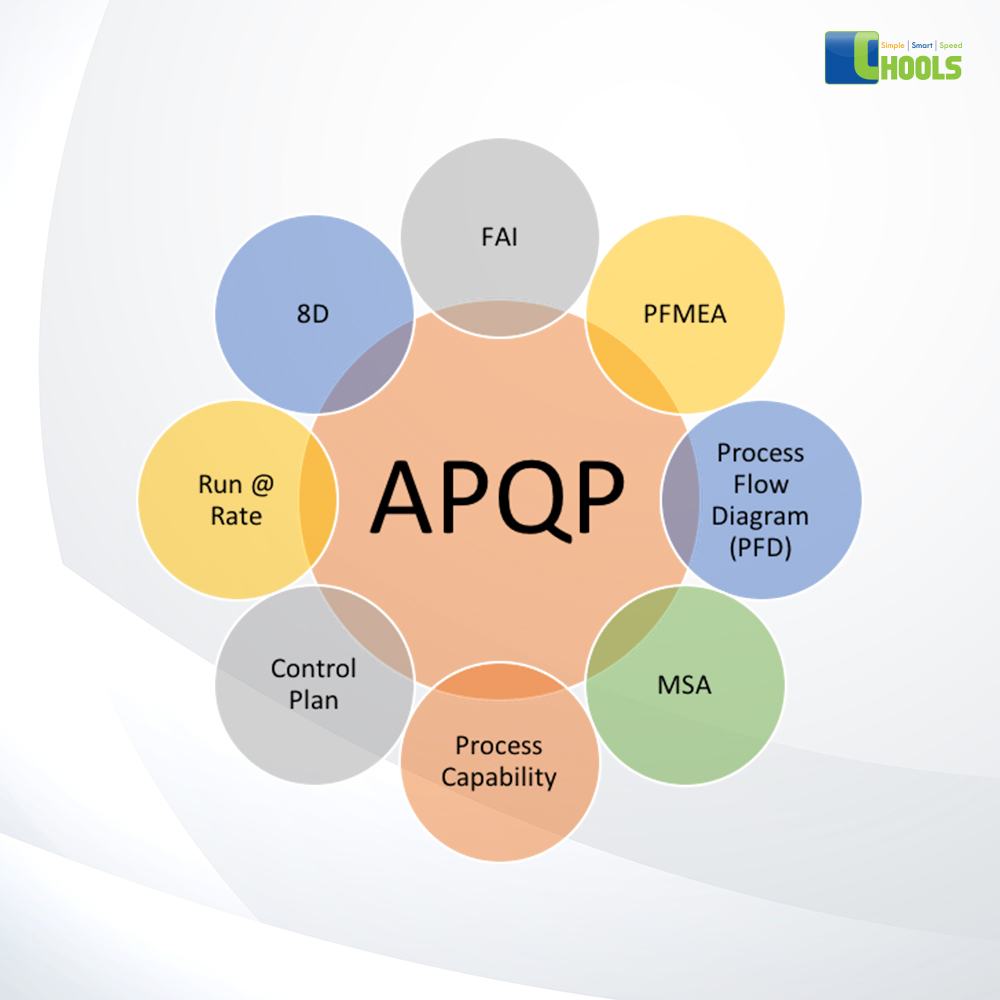 ➤ Product Development.
➤ Required Resources.
➤ Avoiding past failures.
➤ Discovering failure modes early in PD.
➤ Developing Special Characteristics.
➤ Managing Design and Process Change.
➤ Collaboration in design of product and process.
➤ Appropriate APQP tool selection.
➤ Apt APQP tool selection for capturing failure.
➤ Capturing future preventive actions.
➤ Implementing systems and techniques for enhanced PD efficiency and efficacy.
The application of APQP holds prime importance for the supply chain. The supply chain support of an organization's NPI is significantly improved with smart utilization of APQP. Additional considerations, critical for applying APQP to supply chain are:
➤ The accurate number of high value suppliers. Engaged and Managed.
➤ The value of supplier inputs important to product performance.
➤ The various levels of Production Part Approval Process (PPAP).
➤ Time required for satisfactory completion of APQP.
➤ Training and mentoring requirements for improvement of supply chain support.
Developing an APQP methodology that is potent in quality and agile in process management is an outcome possible with reliable assistance from professional resource. Chools provides firm assurance with respect to creation of a world class APQP process that acts as a catalyst for your company's product development process and as an adhesive for your relationship with your customers.
➤ The exclusive benefits you receive from a premium APQP consulting:
➤ Mesmerizing design experience for both your company and your customers.
➤ Complete integration of your requirements into your product from concept to customer.
➤ The notable tools used:
Failure Mode and Effects Analysis (FMEA)
Design for Assembly (DFA)
Control Plan Methodology
Design Review Based on Failure Modes (DRBFM)
➤ Enhanced collaboration between the major entities like product, process design, purchasing, supply chain and manufacturing.
➤ Systematic development of risk mitigation plans for prevention actions
➤ Product development cycles with increased speed.
➤ Advanced quality control systems and control plans.
➤ Upgraded systems supporting product development, manufacturing and service.
➤ Supply chain engagement with careful consideration of time.
➤ Alignment of project goals with organization objectives.
➤ High priority placed on customer satisfaction. Significant reduction in warranty cost. Prevention of a full-fledged campaign.